Arena Football Unleashed not the first AFL Video Game
by Dave Carlson
Tuesday March 27, 2001
http://www.arenafan.com/news/?page=origcol&writer=5&article=275

Almost every Arena Football fan by now has either played, seen, or heard about "Kurt Warner's Arena Football Unleashed". When it was announced an Arena Football video game would be published, the majority of AFL fans were very excited. Even after hearing it would be similar to NFL Blitz, many still kept up hope that it would be a decent game. After it was released, the reviews were mixed at best. Although fine as an "arcade" style game, true Arenaball fans were not happy with the many changes in rules, the poor programming, and errors in game play. The general feel seems more like an XFL video game than an AFL video game experience. Alas, most fans are still yearning for a "Madden" style Arena Football video game.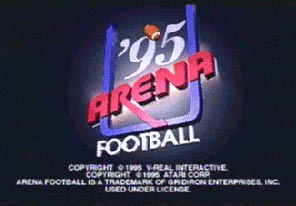 Opening Screen for the unreleased 1995 Jaguar Game
Photo courtesy of David Carlson

That announcement in 1999 about the PlayStation game was not the first time that the league announced it would have a video game developed for the sport. In late 1993, the league had made a deal with V-Real, a video game company, to design a game for the new Atari Jaguar system, the only 64-bit system yet available. A full-page ad appeared in 1994 Arenaball programs, informing fans they could reserve a copy for $10 and get the game, $25 off a new Jaguar system, $5 off the game, and an AFL mini-football.
This blurb from the ATARI EXPLORER ONLINE 1994 Summer Consumer Electronics Show Report explained the game`s state of development at that time: "While still shots of Arena Football make for great pictures, the self-running demo was not that impressive. It was just running too slow. The intro screens were very nicely animated, all being completely rendered. The game screen itself reminded me of a cross between Cyberball and Madden 3DO. I`m sure they can improve the speed for the final version, in which case Arena looks to be one of the top football games out there. The demo showed digitized characters with rendered uniforms for a surreal football feeling. While the animation was nice on the intro screens, it just wasn`t there on the actual game screen. While I didn`t spend a lot of time observing Arena, it was apparent that this game still has a way to go in development."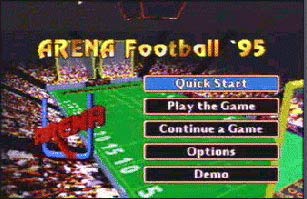 Main menu for the unreleased 1995 Jaguar Game
Photo courtesy of David Carlson

After the CES, not much was heard from V-Real, or the Arena Football League video game. By 1995, the Jaguar was deemed a "failure" as a video game system; the PlayStation and Super Nintendo had now arrived and garnered most of the attention of video game players. No more work would be ever spent on the game after 1995, and an Arena Football video game would be a pipe dream for a few more years.
Brian Rice was one of the people who worked on the Jaguar title. "I did work on Arena Football with Atari and Viveros and Associates. We had the game visually very close; 3d graphics, animated players and some basic AI (Artificial Intelligence). Unfortunately because the Jaguar was such a difficult machine to program for, at this point we were several months past our deadline". Brian explained that the end was near for the game system itself, "Right about then is when Atari pretty much threw in the towel. So many other people were having such difficulty getting games done on this machine. We spent about a year working on it."
I spoke with David Pochron, who also worked on the video game, and was able to give me some video footage of what they had done before the project came to a halt. I have included some screen shots with this article.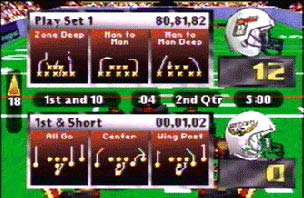 In this Arena Football Video Game, you would have chosen from plays with 8 men per side.
Photo courtesy of David Carlson

My overall impression is that this game would have been much more acceptable to the "hard core" Arena Football fan than the PlayStation game had it come to completion. The obvious things, like actually 8 men per side, and no "wrestling" moves interrupting the game are the best features over the PlayStation game. The graphics were no worse, if not as good as the PlayStation game. The music that plays during the menu options screen and between plays is cheesy at best, sounding somewhat like a bad porno movie soundtrack digitized. The animation and game play though looked pretty close to completion, other than some animation errors that needed to be fixed.
If they had been able to get another 3-4 months of work on it, I think we may have at least had a "complete" unreleased game out there. Maybe some enterprising Jaguar programmers could be convinced to finish up the project. In the world of defunct game system emulators and programming, stranger things have happened.

More screen shots from the video game: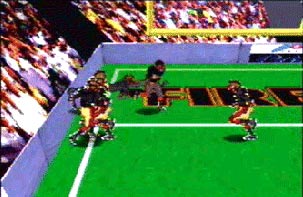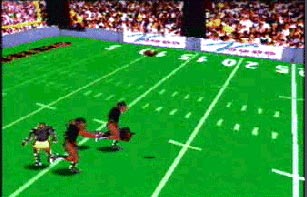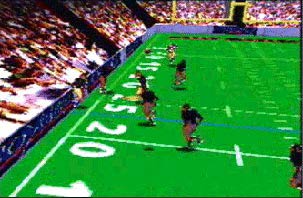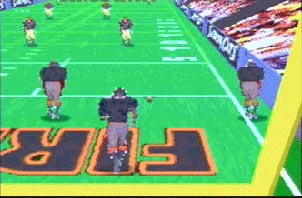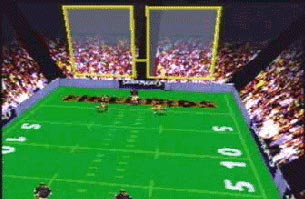 Dave Carlson is the Technical Director of Arenafan Online. Dave graduated from Northcentral Technical College with a degree in Computer Information Systems, and has been a member of the Arena Football Internet community since 1991. He is currently a professional web programmer, and has a history in programming sports statistics. Dave is married and lives in Fort Wayne, IN.
The opinions expressed in the article above are only those of the writer, and do not necessarily reflect the thoughts, opinions, or official stance of ArenaFan Online or its staff, or the Arena Football League, or any AFL or af2 teams.